My interest in Civil War cannons has caused me to search out and become knowledgeable about many other topics. In a previous article, I had to figure out what guncotton was and then I had to research the sinking of the Lusitania. In another article it was gun powder and prior to that it was the USS Wolverine on Lake Erie. My thoughts have now been pushed in another direction. Imagine what an extraterrestrial, landing in Warren in the year 2500 would think when he saw that this was a city with 24 bells displayed in various places. My thoughts turn in this direction for two reasons: Bells were founded by the same people who founded cannons and Joe DeFrees, the person who put these bells on display, was a dear friend of mine. To start with, I researched my books on cannon foundries and found 68 of them and 56 people who were involved in the founding of cannons. I then contacted Harold Johnson from Allegheny Valve who graciously allowed me to research Joe DeFrees' old records of the local bells. This has become a little bigger endeavor than I had anticipated, but I believe I will be doing the community a service by pulling them all together, so here goes.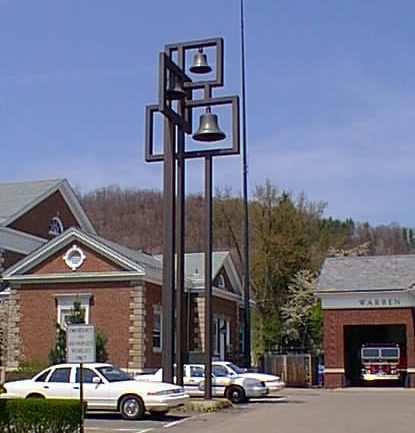 The TRIAD in front of the Warren City Building I wanted to start with the 3 bells that are mounted in that unique mount in front of the City Building in Warren. Joe called this mount a TRIAD and it was designed by Albert T. Kondak, the winner of a contest that was held to come up with the most unique design for this tower. Joe's desire was to pull together all of the city's fire bells and display them in one place, which he did. Warren's history tells us that fire protection, for many years was in the hands of volunteers. Charles Frantz (now deceased), of the Warren County Insurance Agency, a fire department buff has recorded 14 volunteer fire department in Warren between 1846 and 1898. Fire bells were very important in summoning these volunteers. The top bell of the three in the TRIAD in front of the City Building is the smallest and was founded by Clinton H. Meneely of Troy, New York in 1868. It weighs 700 pounds, is 30 5/8 inches in diameter and is 26 1/2 inches high. For many years this bell was a part of the fire alarm system of the Centennial Hose Company which was established in about 1894. This bell was in the tower in its station at the corner of Buchanan St. and Madison Ave. In the early 1940s the tower and bell were removed and the Borough Council authorized the sale of the bell for junk. Joe DeFrees, who was on the Council at that time purchased the bell. The West Side of Warren was protected by The Struthers Independent Hose Company, located across Pennsylvania. Avenue West from the former Struthers Wells steel fabricating plant, it was just west of the railroad tracks. It was organized in1862 by workmen of Struthers Iron Works. The bell in the middle is from that fire company. The maker of the bell was probably the Cincinnati Bell Foundry Co. It is iron and weighs about 1200 pounds. It is 37 inches in diameter and its height is 25 1/4 inches. This bell was eventually acquired by the Girl Scouts for use at their camp in Birdsal Edey. In 1974 in his attempt to put all of the fire bells together, Joe traded a bell he had purchased from Stockton Sales, for this bell. It is interesting that the Struthers Hose Company is still an active social organization with its clubhouse located at 1025 West Fifth Avenue in Warren. The bottom bell which is the largest, is a bronze bell from Warren's Central Fire Station. It weighs 1784 pounds, is 44 1/4 inches in diameter and is 44 3/4 inches high. It was cast in 1884 by Clinton H. Meneely of Troy, New York and shipped to Warren on December 10, 1884. It was placed in the Central Fire Station tower until the tower was in need of repair and it was determined that neither the bell nor the tower was needed and both were removed. . Joe liked to name his bell towers. This tower of bells is called the Bicentennial Bell Tower and commemorates our country's 200th birthday. It was erected in 1976 and was wired so that each of the bells could be rung independently from within the police station. This is my first attempt to define the mystery of the bells and so far, of the 68 foundries I know of from the study of Civil War cannons, none of them match the founder of any of our bells -- well back to the drawing board. After writing this article, I received a call from Mildred (Mrs. Emil) Ristau. She stated that this bell tower was constructed by Erie Steel in Erie, Pennsylvania, by her son Tom Ristau. Joe DeFrees was a genius with a mind like a steel trap. In traveling to gun shows, we often heard him expounding upon everything imaginable. He often spoke of trying to buy bells from some historic place. He acquired scores of old bells and then wanted to display them and I have chosen to record the results of his endeavors. In addition to the 3 bells in front of the City Building in Warren, there are 21 more. I want to comment on each of them.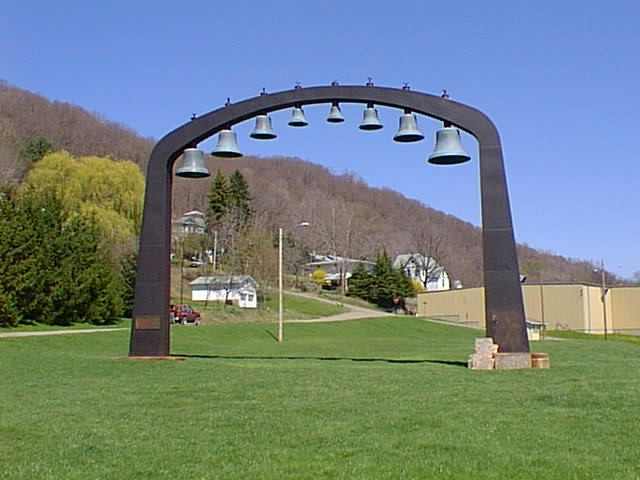 The above bronze bells, located in the park, north of Fourth Avenue, in Warren, between Union Street and Beech Street in Warren, are from St. Mary's Roman Catholic Church in Buffalo, New York. Joe was told that these bells, in the hands of a demolition company were for sale and he eventually acquired them. The bells were manufactured by the McShane Bell Foundry in Baltimore Maryland, in 1884. The largest weighs 5500 pounds and is 64 inches in diameter. The smallest is 17 inches in diameter and weighs 750 pounds. Each bell has an inscription on it honoring a saint or other Catholic religious concept (all are in Latin). The tower was designed by Joe and it was manufactured by Jeff Werner of Bill's Welding Shop. It was erected in 1982 and as with most of his towers, it has a plaque on it. The plaque quotes an ancient Kalidasa poem. Kalidasa was a 5th century poet and dramatist from India. It reads, "AN ANCIENT POEM -- Look to the day, for it is life, the very life of life. In this day's brief pause lie all the verities and realities of your existence; the bliss of growth, the glory of action, the splendor of beauty; for yesterday is gone and tomorrow is only a vision. But today well lived makes of every yesterday, a dream of happiness, and every tomorrow a dream of hope." Picture of the Beech Street bells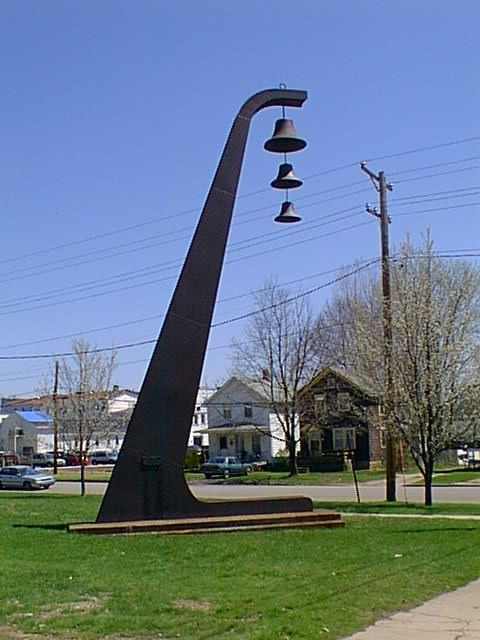 The above pictured tower, located at the corner of Fourth Avenue and Beech Street in Warren supports 3 bells, one above the other. It was erected in 1981 and was designed by Joe DeFrees and fabricated by Bill's Welding Shop, in Warren. A plaque on the base of the tower is a quote from Tennyson: "Ring in the lover of truth and right. Ring in the common love of good." The top bell is 40 1/8 inches in diameter and weighs 1400 pounds. It was purchased from Stockton Sales in Columbus Pa. in 1978. The second bell is 30 1/2 inches in diameter, weighs 600 pounds and was purchased in 1978 from Thomas Carroll who lived on Main Street in Youngsville. The bottom bell is 25 1/2 inches in diameter and weighs 350 pounds. It was purchased in 1979 from Stockton's Sales in Columbus Pa.


On the north side of Fourth Ave., near Union Street, in Warren is a bell tower with 3 bronze bells on it. This tower, designed by Joe DeFrees and erected in March of 1981, is by his description, "a touch of modern art to add to Warren's beauty." The attached plaque reads, "A continuing tribute to Warren, its pioneers, its citizens, its beauty, its progress." This plaque credits the builder as Jeff Werner, of Bill's Wending. Each of the bells was purchased by Joe in October of 1977 from the I. T. Verdin Company. The I. T. Verdin Company is a bell foundry in Cincinnati. This company did not make these bells, but for some reason had them in their possession. The topmost bell is the largest. Its diameter is 38 3/8 inches and it weighs 1250 pounds. It was founded by the McShane Bell Foundry in Baltimore Maryland in 1882. The middle bell, 31 1/8 inches in diameter and weighing 600 pounds was founded by Jones & Company in Troy, New York in 1868 and the bottom bell, 23 1/2 inches in diameter weighs 250 pounds. It was founded by Henry McShane & Company in Baltimore in 1882. In the continuing description of the legacy of bells left by the late Joe DeFrees, I would like to conclude with the bells in front of the Charles Warren Stone Museum and those beside the Allegheny Valve Office on Third Ave.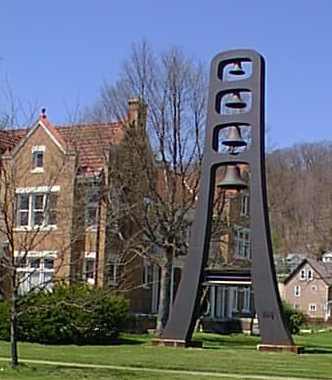 All of Joe's towers except the tower by Allegheny Valve are made of CORTEN steel. Corten is a high tensile steel that never needs painting. After being exposed to the weather, it forms a patina coating that protects and preserves it. This is why none of those towers is painted. Joe called all of these towers CORTEN TOWERS. Picture of Charles Warren Stone Museum bells This CORTEN tower was erected in July of 1976 and embraces 4 bells. It is believed that the topmost bell is 24 inches in diameter but as of this writing, nothing more is known about it. Similarly, the next bell down is believed to be 30 inches in diameter but as yet no record can be found on it. The third bell from the top is steel and 36 inches in diameter. In 1974, in an attempt to acquire a bell to be traded to the Girl Scouts for the Struthers Hose Company bell which they had in their possession, Joe bought 2 bells from Stockton Sales in Columbus. One of these bells was eventually traded to the Girl Scouts and this is the other one. This bell was once at the Conewango Valley Church in about 1834. The largest bell is at the bottom. It is 44 inches in diameter and has an interesting history. In a letter found in Joe's files, dated June 1974 and probably written by Joe, are the details of the history of this bell. It essentially says that Harry Rapp, who at that time was a foreman of the Gesholt Machine Co. and later a partner in Fairchild & Rapp Machine Shop, had this bell brought from Ohio and that he gave it to The Pleasant Twp. Fire Dept. The letter goes on to say that the bell eventually ended up in a camp, whose owner gave it to Charles VerMilyea. When the Historical Society and Joe learned of its location, they jointly bought it and it now is on display as the bottom bell in front of the Charles Warren Stone Museum. As with all of the other towers, Joe put a bronze plaque on this tower. This plaque came up missing a few years after its erection. Its location and inscription is as of this writing unknown. A lighted sign, between the uprights of the tower was also vandalized. It read: HONORABLE CHARLES WARREN STONE MUSEUM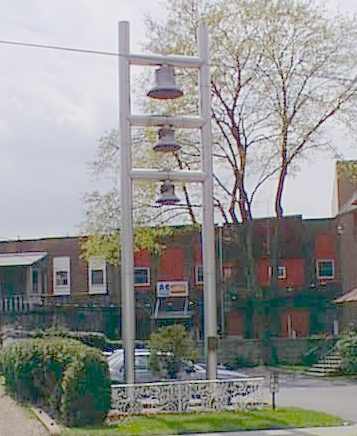 All of Joe DeFrees' towers were made of Corten steel except the tower beside his office at 419 West Third Avenue in Warren. This tower, designed by him and erected in July of 1975, was made of stainless steel tubing. Joe called this tower the SHRINE OF SOCRATES and it holds 3 bronze bells, all of which were founded by the Meneely Bell Company in Troy, New York and acquired by him in September of 1974. The top bell, which is the largest, is 37 inches in diameter and weighs 1100 pounds. It, along with the other 2 bells was purchased from the I.T. Verdin Company, a bell foundry in Cincinnati, Ohio. The inscription indicates that it was made in 1895. The middle bell is 28 inches in diameter and weighs 450 pounds. Inscribed on this bell is, "'Angelus Bell' In Honor of St. Barbara - Donated by Mr. & Mrs. Philipp Hans, November 9th, 1919." The bottom bell weighing 300 pounds is 24 inches in diameter and inscribed on it is, "'Poor Souls Bell' In Honor of St. Philipp and William - Donated by Mrs. Rieber and Family November 9th, 1919." The inscription on the plaque reads as follows: SHRINE OF SOCRATES "To Socrates himself are usually ascribed an intense ethical devotion which influenced all later Greek philosophy, the development of the inductive method, and the conception of knowledge or insight as the foundation of virtue." As noted earlier, one of the reasons for researching these bells was to show a correlation between bell founders and Civil War cannon founders. After all of this, no connection was found.